Reminder: Orders for Valentines Day Treats are due Friday, January 13th! Forms have been sent home.

It's pajama day!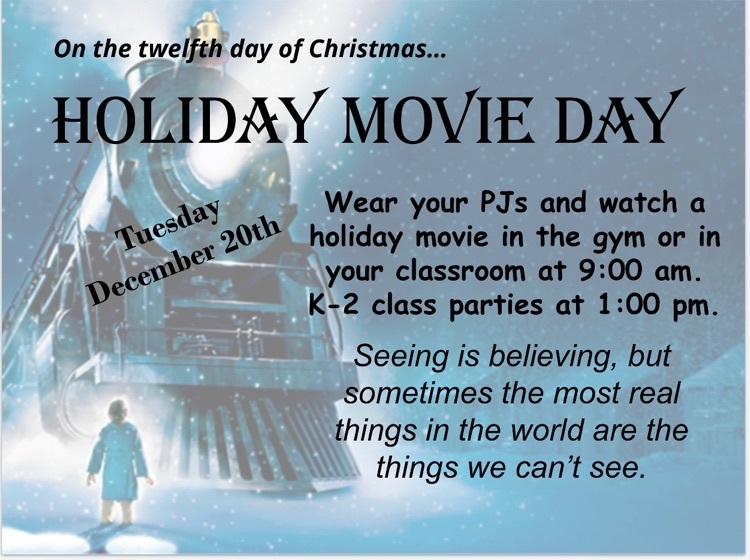 Tuesday, Nov 29 South Crawford night at Papa Johns in Corydon. Use code SCRAWFORD to help our school earn 20% of sales! Extreme Orange and Brown Spirit Day Boys Basketball County Tourney 6:00


Reminder: Picture Retakes and Sports Pictures will be tomorrow, November 9th. Students should wear or bring their jersey or team shirts.

Please join us at South Crawford Elementary School as we honor our Veterans on Friday, November 11th at 2:00 PM.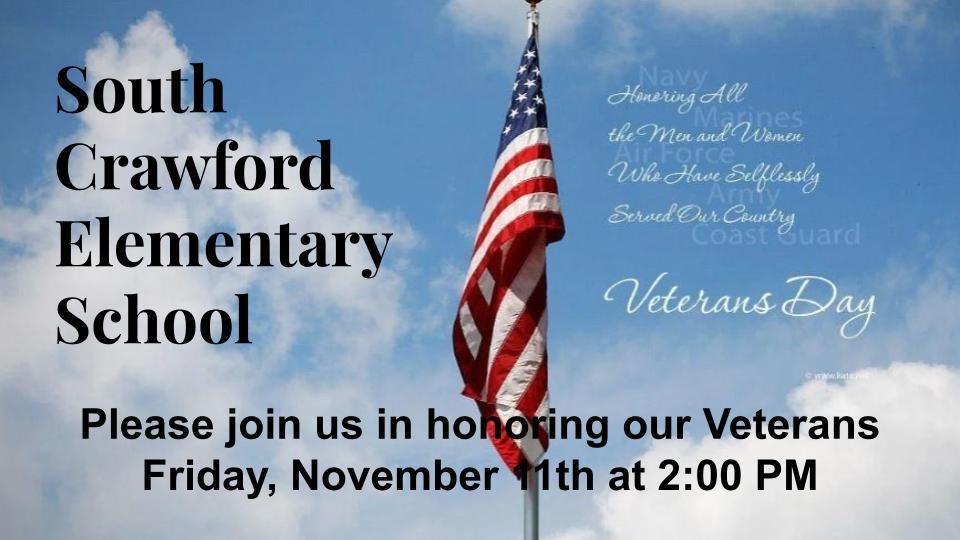 Girls' Basketball County Tourney Thursday, Nov. 3 - 6:00 PM @South Crawford Elementary Thursday is Extreme Orange and Brown Day at school to support our team!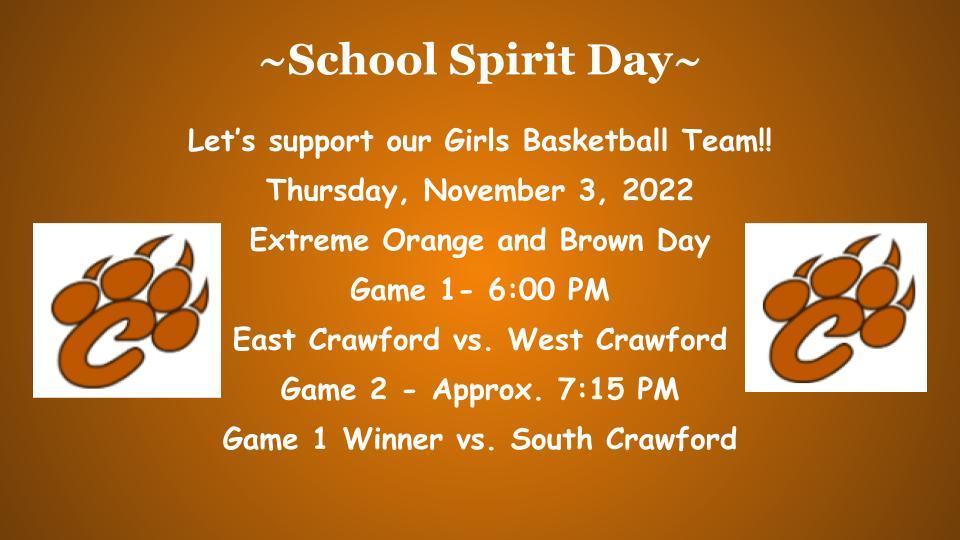 Free Parenting Program supplies diapers, formula, car seats/cribs, etc. Open House is Thursday, October 27th.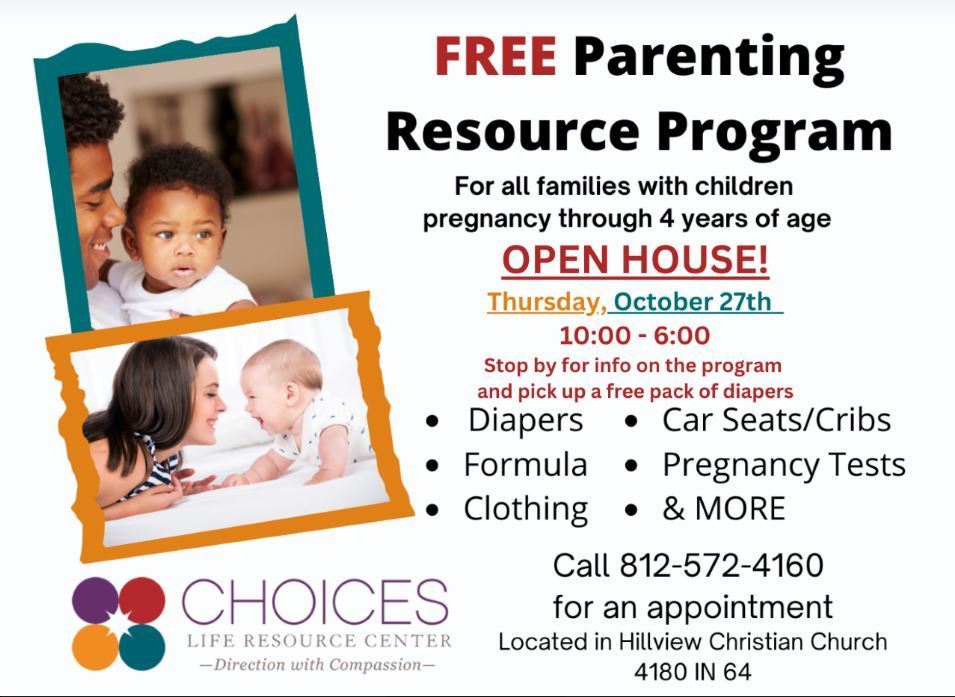 Families...you may be eligible to safe up to $30 a month on your internet service bill! The Affordable Connectivity Program is a new federal program that helps low income families afford the cost of having internet service at home. We know some families in our community have already been approved! Please stop by the office for a form or email
aetienne@cccs.k12.in.us
to receive the form electronically. Enroll today at this website:
www.affordableconnectivity.gov

September 2022 Menu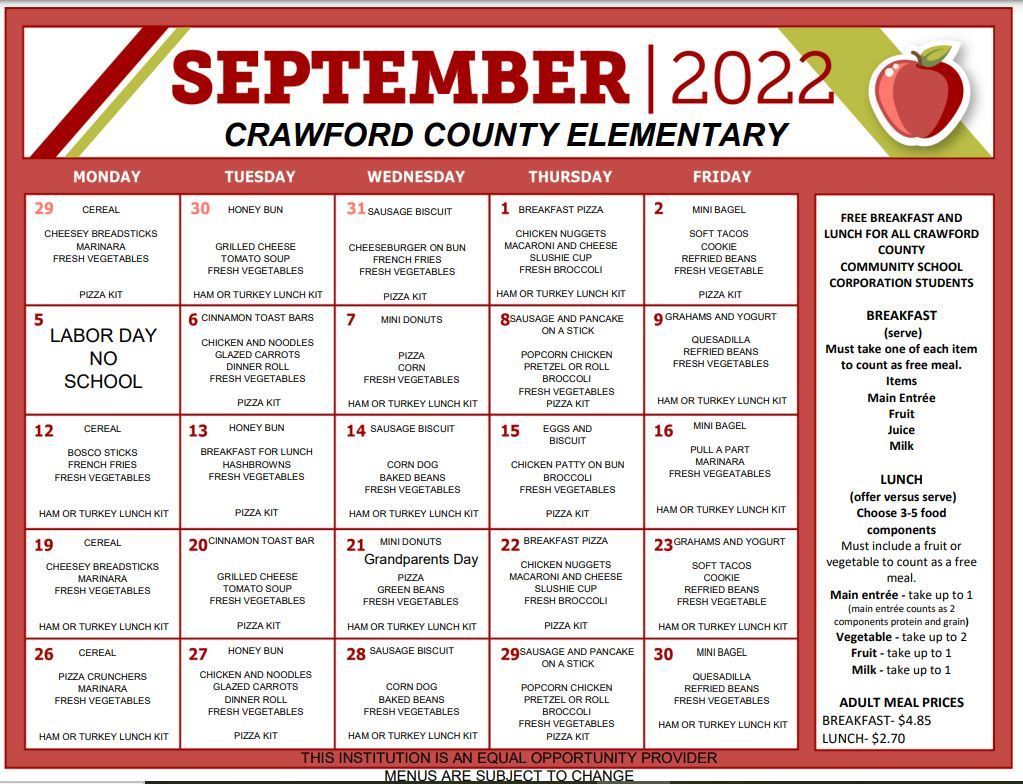 Free Event Community Event on September 17th!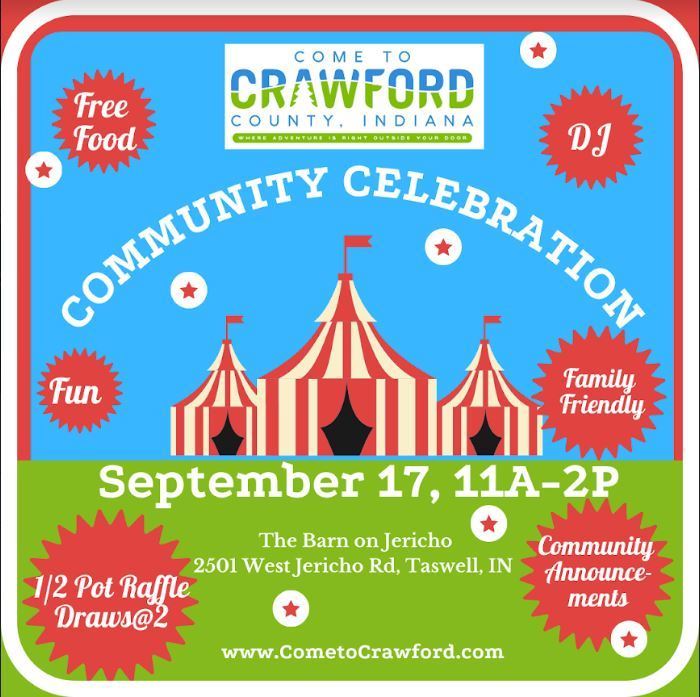 We are excited to kick off the Boys and Girls Club Extravaganza today! This year family and friends can shop online to help support our school and BGC! Packets will be coming home today with students. The online shopping link is below. Happy shopping! Thank you for supporting our school.

Every South Crawford Elementary student received a free bicycle helmet and instructions on how to wear the helmet properly! The helmets were provided by INDOT's Bike IN Safe Program. We are so grateful for community safety programs to help promote the importance of keeping our kids safe!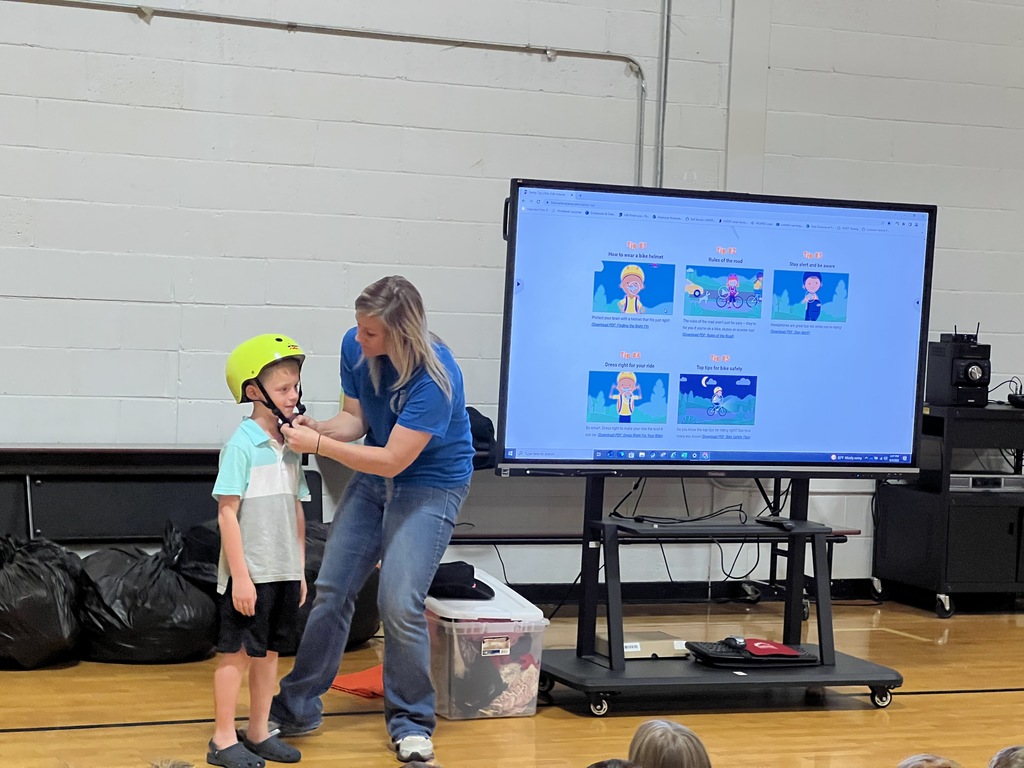 South Crawford Elementary students got to meet Safety Sam today! We enjoyed learning about the importance of proper ATV safety from Conservation Officers Dennis Talley and Terry Allen and Safety Sam! Thank you to SRO Kyle Wiseman for organizing this informative program!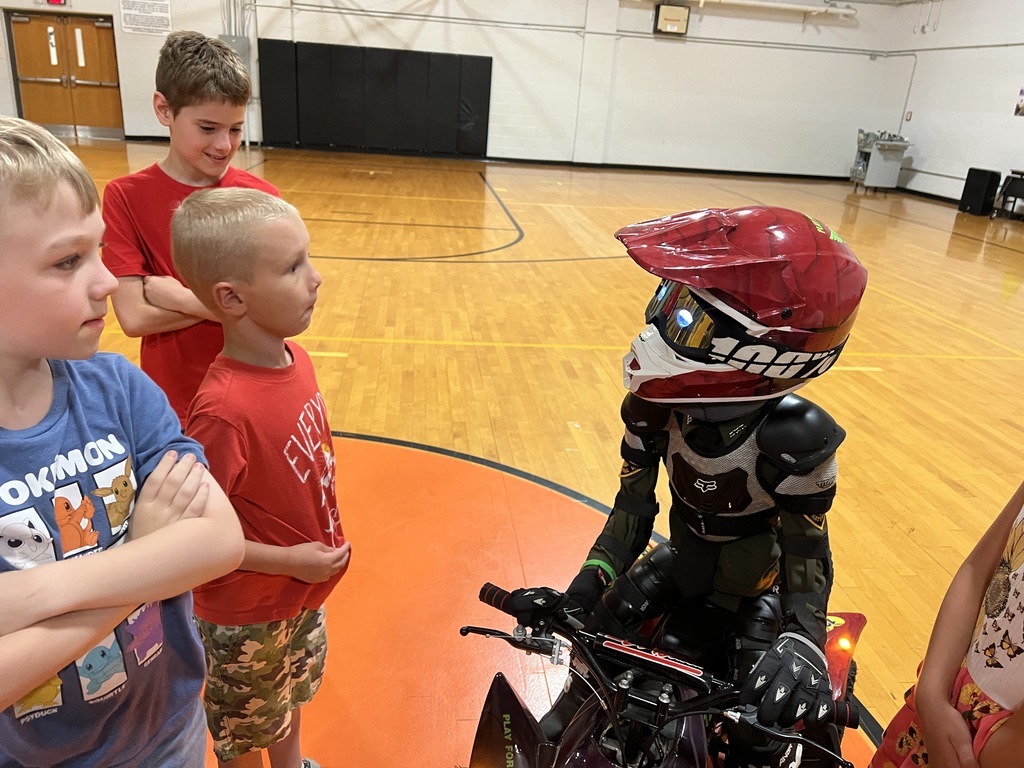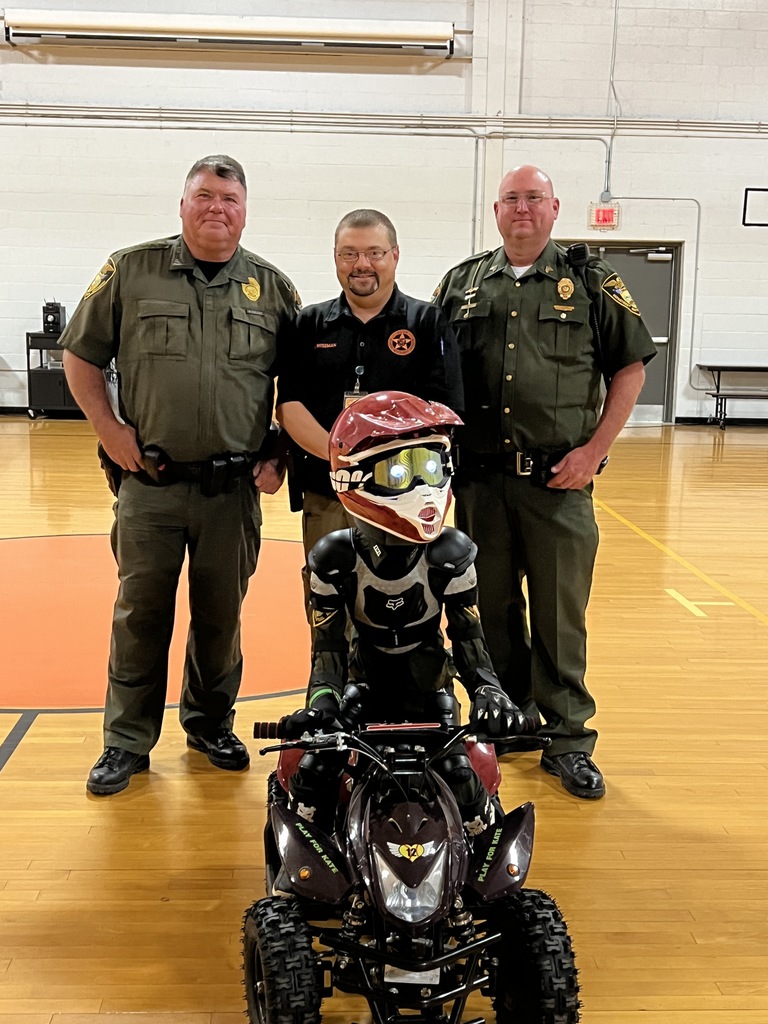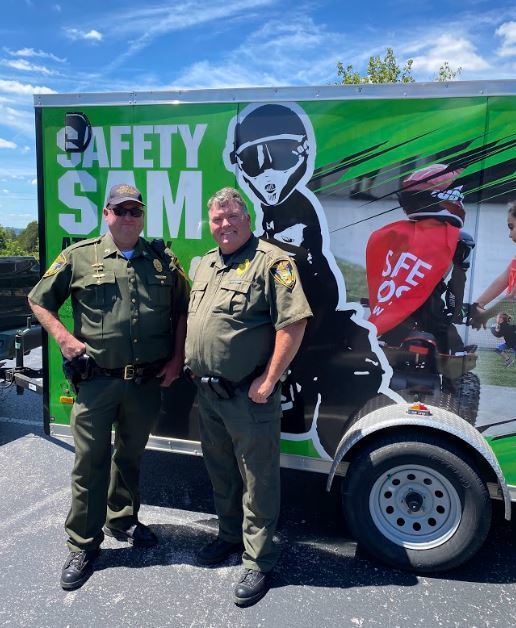 Click the link below to access our latest Wolfpack Family Newsletter! This week: School Pride Day, Picture Day and much more!
https://www.smore.com/75gxc

August Menu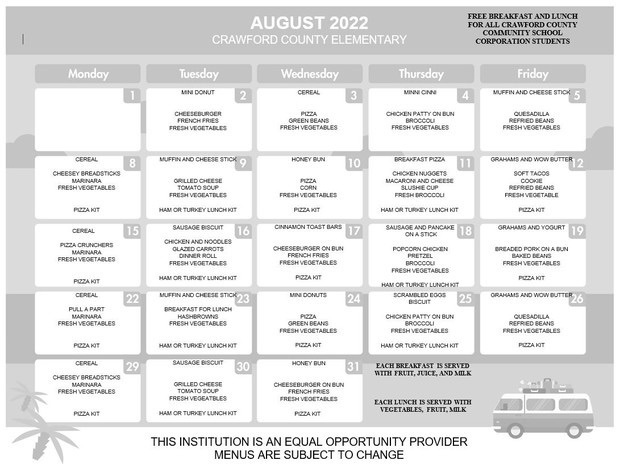 It's almost that time of year again! Here is some important information for you to read! Check out our parent newsletter!
https://www.smore.com/ax9tz

Open House at South Crawford Elementary will be held on Thursday, July 28th. PTO Meeting at 5:30 and Open House at 6:00. Bring your children to meet their teacher, visit their classroom, and drop off school supplies!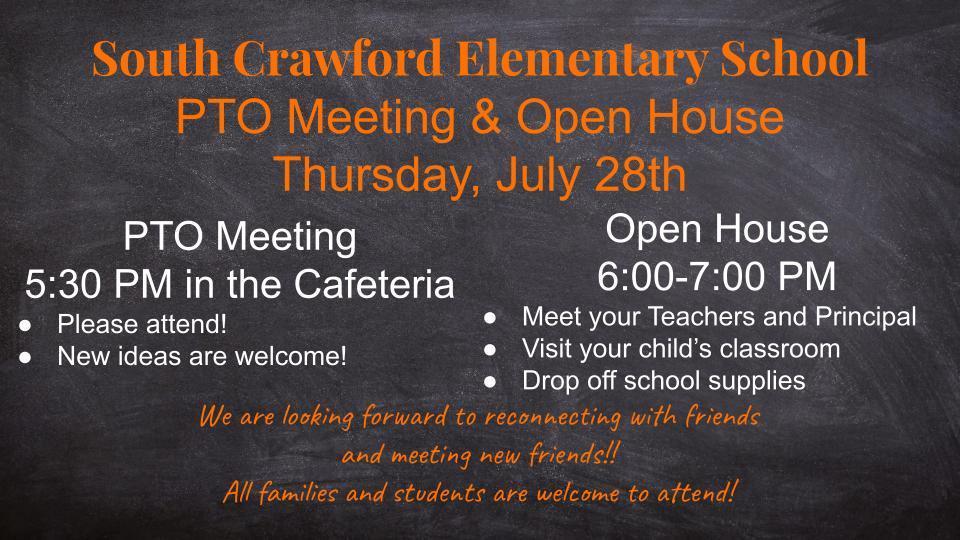 Please stop by Corydon Walmart on Friday to help South Crawford Elementary Stuff the Bus!!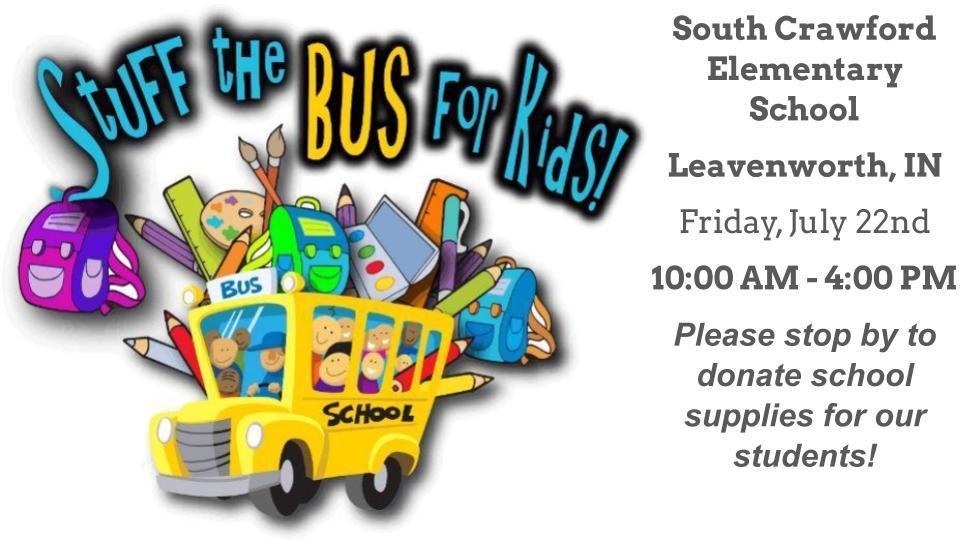 Registration for enrollment in Crawford County Schools will be held on Tuesday and Wednesday!