If your child has tested positive for COVID, has symptoms, or if there is a positive case in your household, please email
aetienne@cccs.k12.in.us
or notify your child's teacher through your class messenger app as soon as possible.


Crawford County Schools have depleted their allotment of COVID-19 rapid tests. The Indiana Department of Health has no plans to make tests available to schools due to shortages nationwide. Therefore, students who have two or more symptoms of COVID-19 or one symptom that is a fever, excruciating headache, or loss of taste and smell will be sent home and treated as positive. Students will be allowed to return to school on day 6 as long as they are symptom free for 24 hours without medication. If your student is currently quarantined from school, he/she may return to school on day 6 without evidence of a negative test result.

Meal distribution will occur on Thursday afternoons and Friday mornings throughout January. In order to assist our planning, we request the following survey be completed for each Crawford County student receiving meals. A new survey will be sent out every week. Each student is eligible for two breakfasts and two lunches at the time of pickup.
https://forms.gle/4FwdxiNpwpYjoaaV8

The January PTO meeting is canceled. The next meeting will be on February 2nd at 3:30 in the cafeteria.

Here is a summary of the announcement from Mr Key earlier this evening.

If you are in need of blankets, coats, hats or gloves, please contact Rocky Gray at 812-613-0129. Also, assignments for eLearning have been posted. Please check your class app (Dojo, Remind, etc.) or your child's email for details. You may email your child's teacher with questions. Stay warm!

All Crawford County Schools will continue with eLearning on Friday, January 7th due to winter weather.

Assignments for eLearning have been posted. Please check your class app (Dojo, Remind, etc.) or your child's email for details. You may email your child's teacher with questions. Stay warm!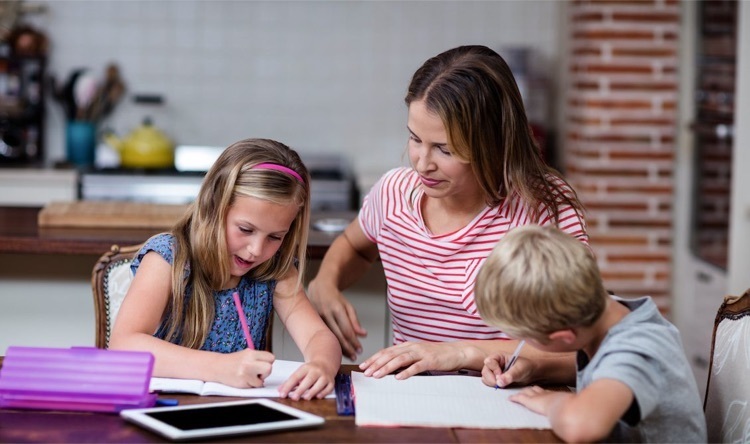 Winter weather is in the forecast for tomorrow. Please send a note to school with your child if his/her transportation changes JUST IN CASE OF an early dismissal. We will assume his/her transportation is not altered if we do not receive a note or a phone call. Please do not rely on calling the school in case the phones are busy and you have trouble reaching the office.

Bus Routes 15 and 17 have been combined into one route with new driver, Jenny Howe. The bus pick up will be about 10 minutes earlier than usual in the mornings. If you have questions, please contact the office.

Attention: Crawford County Community Schools Families, Students and Staff We have learned of an anonymous, nationwide threat against schools that is being shared on social media outlets such as TikTok. The generic threat declares Friday, Dec. 17, as "American School Shooting Day." The posts warn about the possibility of shootings or bomb threats associated with this day. Federal, State and local law enforcement agencies are aware. We have not yet received any local threats but will investigate any and all with diligence. We take all threats very seriously and will be in continual contact with local authorities. We urge parents to take this opportunity to talk with their children about the appropriate use of social media along with the serious consequences for making any type of threat. Ask your children to speak with an adult at school if they see or hear something so immediate action can be taken. In addition, if anyone in our community sees something suspicious, please call law enforcement immediately. SRO Hotline: 812-463-2775 Crawford County Sheriff's Dept: 812-338-3616 Emergency: 911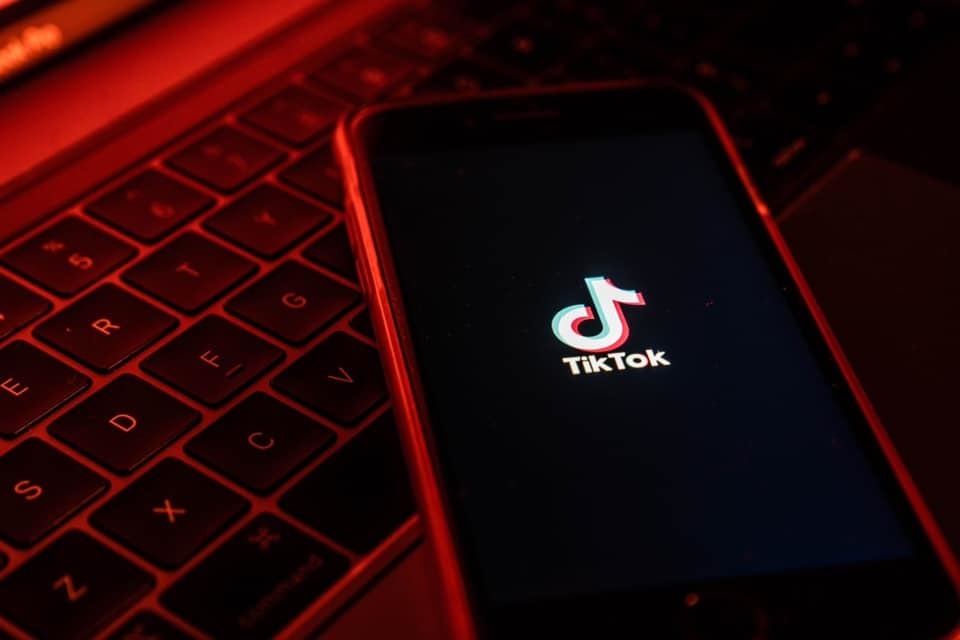 Reminder: South Crawford's Christmas program is tonight @ 6:00. Masks are mandatory to attend this program. This event will be very crowded and I respectfully ask you to please stay home if you have symptoms of an illness or if you cannot wear a mask for the event. Thank you in advance for adhering to this mandate.
South Crawford Elementary Christmas Program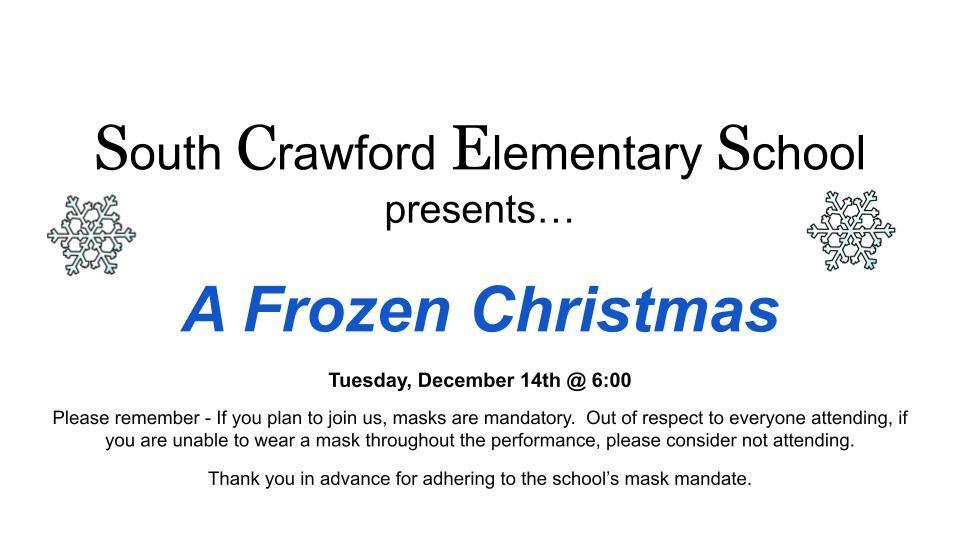 December 8, 2021 All CCCS schools are on a 2-hour delay today.

Correction: SCE Show Your Spirit Day is Tuesday, November 23rd.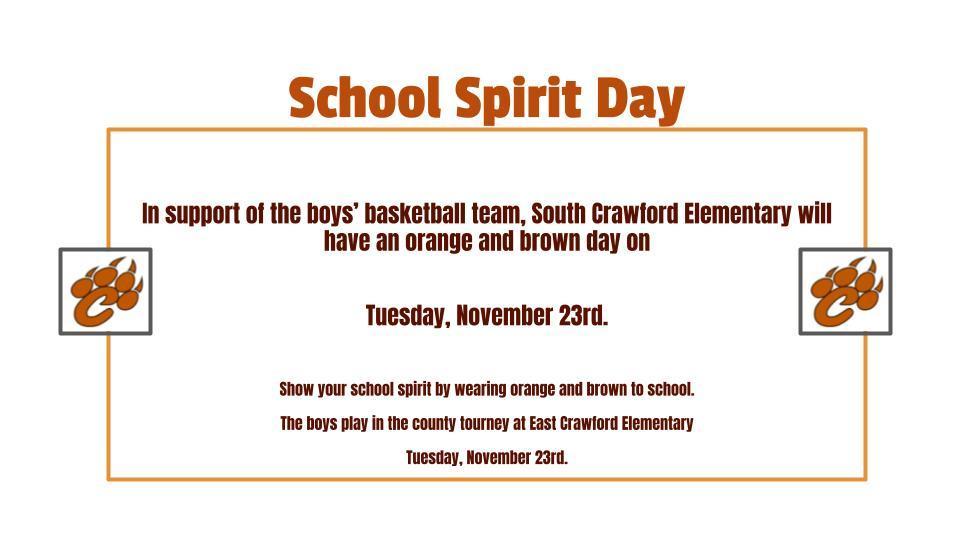 SCE Show Your Spirit Day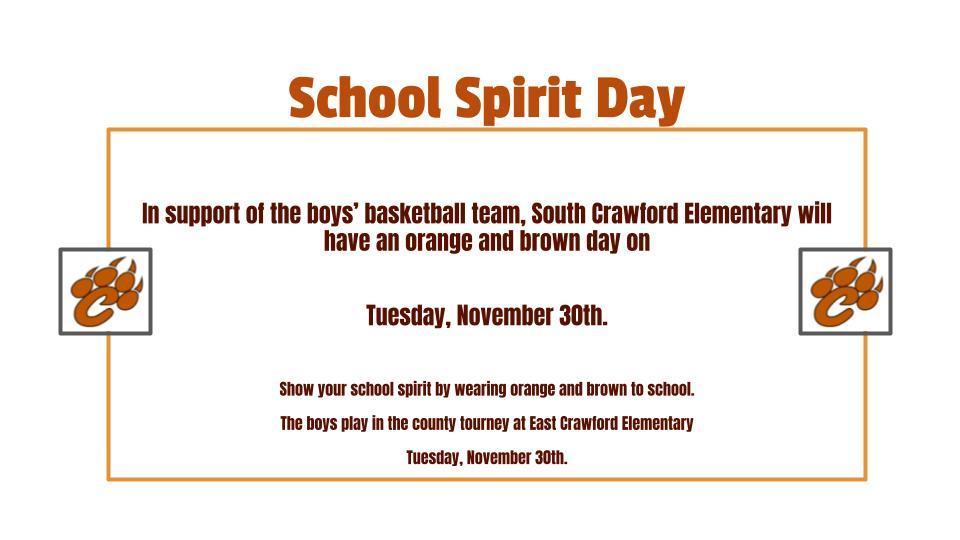 Menu Changes: 11/18 Thanksgiving Meal: no meal B choice 11/19 Donuts for breakfast 11/22 Cheeseburger on bun instead of chicken patty
Sports pictures and retakes